SHOULD YOU EAT FRUIT?
Eating delicious, sweet fruit.
Why would we not want to eat this amazing food source that
nature provides?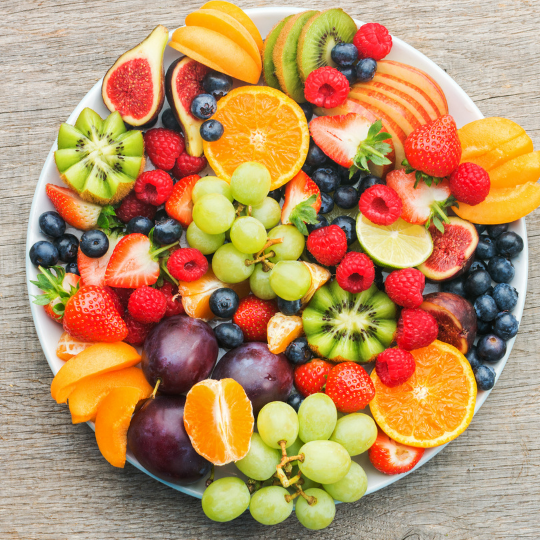 It's because people are afraid fruit is going to make them fat.
Fruit.
Not fruit snacks or fruit juices or manufactured snacks with a little fruit in them, disguised as healthy.
I'm talking about plain old fruit that you pick off of a tree or bush.
I think it's kind of sad that this is where we are at with our nutritional knowledge.
People have become afraid of fruit because it contains natural sugars in the form of fructose.
And it's been drilled into your head that sugar is bad for health and fat loss.
Indeed, we need to eat less sugar, but is it just sugar that is the problem?
Read up on Walter Kempner's rice diet which helped over 106 patients lose 100+ pounds on rice and fruit...
Maybe the battle for being healthy is more about getting your BMI down than any particular diet.
But back to the original "fast food".
Fruit contains beneficial nutrients, like vitamins, minerals and fiber—which help stabilize your blood sugar, lower inflammation, and boost overall health.
Fruit is mostly water which makes it low in calories, making it a perfect addition to any healthy nutrition plan. Although you can gain weight from over-eating any type of food, it's a lot damn harder to do so when you're eating more low-calorie foods, such as fruit, vegetables, beans and lean protein sources.
The average daily intake of added sugars in America is 19 teaspoons for men and 15 teaspoons for women. Contrast that to the current recommendations of no more than 9 teaspoons for men and 6 teaspoons for women.
People are generally eating two times the recommended amount of added sugars each day.
This is where we have work to do!
Let's focus on eliminating organic sugar, coconut sugar, maple syrup, plain old table sugar, high fructose corn syrup, dextrose and all the other names sugar goes by in processed foods. Beware of labels that tout things like, "contains only natural sugars" or "no high fructose corn syrup" but use honey instead are just trying to confuse you with marketing.
Fruit is an ally not an enemy of good health.
Keep moving,
Coach Dom